Why We Are Emotionally Attached To Our Mugs - The Best Answers You Need
What is a mug? "It is a large cup with straight sides used for hot drinks" – definition from http://dictionary.cambridge.com. Is that all? Not only me, but lots of people have the same complicated feelings towards their mugs. And we all wonder why we are emotionally attached to our mugs.
There are some psychological studies on this. You may not recognize its presence, but you can sense it. If you are still searching for answers, this article will be just the one for you.
Which Parts Inside Us Make Us So Emotional?
You can say that the crucial difference between human beings and other creatures is the social part - emotions. We can feel joyful, excited, happy, surprised, sad, angry, disgusted, or fearful.
Yes, much upper class and some lower-class animals can have these feelings at some considerable levels too. But we, human beings, can expose them with our facial expressions, and the emotions are contagious also. Animals do not have that ability.
What's more, human beings can express their feelings towards inanimate objects. It is called human's instinct. We are attached to things we love, not just because of its beauty. It is because it means something to us. Not just a mug; but everything can make us so emotionally attached to.
Is There a Story Behind Your Mug?
Yes, I think so. The first reason we find ourselves so emotionally attached to our mugs is that it contains a part of your past. You cannot deny the power of memories.
People often buy mugs as gifts or souvenirs. And they only give it to the one they love, their best friend, their family members or someone they respect. If you are the receiver, how do you think? You feel loved. And you become attached to that little mug.
Sipping the hot drinks from your favorite mug in a warm, sunny morning can bring you such joy and happiness. Beautiful images of the past will come back to you, and they will make your day. It could be that great summer when you had the mug, or that wonderful trip where you bought it, or just the gesture of that beloved person who gave the mug to you.
The mug is not just for the present. It reminds you of the quality time you had and the person that you used to be.
Can You Feel the Love from Your Mug?
When you hold the mug in your hand, it is not just the warm of the drink you can feel. You can feel love. You cannot deny it because you cannot see it. You know it out there. The person that gave you the mug still looks after you and cares about you.
It is true to love couples. They often purchase things in pairs such as couple T-shirt, couple jackets, couple shoes, and couple mugs and so on. When one person is not there, you can still feel their presence through those things. The mug plays the central role in connecting the souls of two lovers, no matter where each person is.
Does Your Mug Present a Part of Who You Are?
Yes, that is why you feel inseparable from it. A mug is usually embellished with meaningful quotes, slogans, or famous logos. You can even have for yourself a custom mug with unique designs and texts of your own choice.
A mug can, by some means, define who you are. It can tell that you are a cat lover (because there is a beautiful cat on its side). It can claim that you are a peace lover (people can see a beautiful garden with a rainbow over it in your mug), or a dreamer. Well, this is not necessary 100% true, but somehow, people can capture a part of your soul through your favorite mug.
Besides, a mug can inspire you every time you touch it. It keeps reminding you of who you want to become and encourage you to try your best. My mug says, "Be true to who you are and Live a fulfill life with no regret." This one has motivated me and given me lots of strength every day.
Does It Make You Feel Safe and Warm?
Yes. What can be more enjoyable than starting your day with some hot tea or coffee from your beloved mug? Or you can call it a day with a "mug of hot chocolate milk" on your cozy bed. Both are awesome.
You feel safe because you know the mug is yours and touched by you only. The fact is that my drinks taste much better when they are contained in my mug. The same coffee made from the same coffee machine, and people may say they feel the same. But to me, and other mug owners, it is not.
The ingredients in the coffee are 90% of caffeine and 10% of comfort, harmony, and pleasure.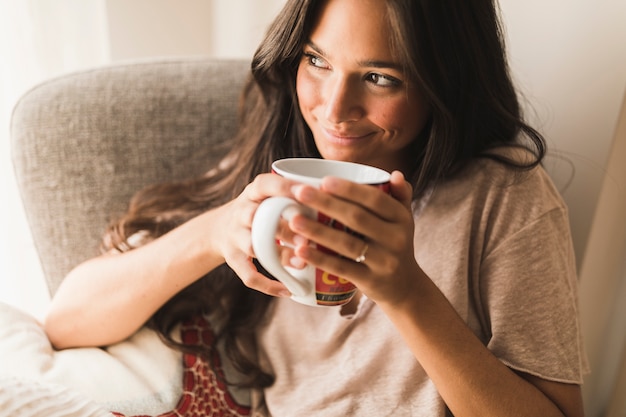 Can I Have More Than Just One Mug?
Yes, surely you can. You do not necessarily have just one mug to get attached to. Like I say, each mug tells a different story. You can be emotionally attracted to more than one mug. Show them your love, and they will never fail you.
In Conclusion
Now that you understand that a mug is not just a mug. We are emotionally attached to our mugs because it has its spiritual power. A warm mug can give you a fresh start in the morning as well as positive energy for the whole day. A hot drink in your cherished mug before bed can put you in a deep sleep with sweet dreams.
If you do not possess any mug, think about getting one for yourself. Then, you can have your own experience, and soon you will understand how many other mug lovers and I feel.