5 Reasons Coffee Mugs are an Amazing Gift
The easiest way a person can show his/her particular affection to the one they love is through a gift. We all know that. However, picking out the best and meaningful gift from thousands of options can be a real frustration. My thought is, "go with a coffee mug." You question me why? Read through this article for 5 reasons coffee mugs are an amazing gift.
Reconsidering 5 Reasons Coffees Mugs Are an Amazing Gift
A gift is not just a gift. It is how you say "I love you" without uttering any word. It is not a matter of what the occasion is. It can be a holiday season, birthday, vacation, business trip, or just as simple as when you feel like it. You can always amaze your beloved one with your sincere consideration.
As a giver, you wish that person to treasure your gift. You must want him/her to enjoy every single moment with it. Seeing your present will immediately awake their memories of your smiley face that they can never forget. A little coffee mug can easily send out those signals.
1. The coffee mug contains drinks and a little flavor of love and life
We all have a habit of drinking tea, coffee, or milk during the day, especially in the morning and in the evening. Is drinking your favorite beverage from a mug (given from a friend) any different from drinking from other random cups? Yes, it will provide you with a sweeter taste.
Your mugs not only perform its duty, which is to contain liquids. If you own a mug, sit back in your comfort zone and slowly take a sip from it; you will feel more thankful for this life than you ever do.
There is no better option to start your day or end it than do it with a "mug of hot drinks" in your hand. Your loved ones will be deeply grateful to you for every little moment with this fantastic gift, as they can sense the love secretly hidden inside.
2. A custom mug is a one-of-a-kind, made by you and "just for you."
A coffee mug can become a fantastic gift if you make it unique. Mug makers offer you an excellent option to customize your mug. You can add a famous logo, or a catching slogan, or a meaningful quote. If you understand the person you are giving it to, you can make it an exclusive mug like no other.
Let's say you decide to give your friend a mug for her birthday. You know she is a dog lover. What can be more surprising than a coffee mug with one cute little puppy embellished on it? You think she would like it? No, it is even more. I bet she would adore it.
The mug is unique the way you create it. What makes it more special is that you have it for that one and only person. The mug proves how thoughtful and considerate you are. Your loved one will appreciate your gift and you even more.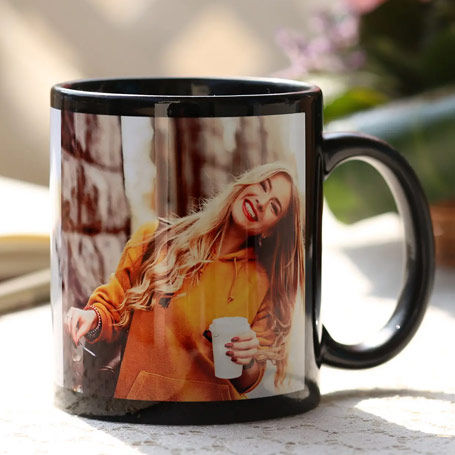 3. A coffee mug suits everyone
You are considering a gift for a not-that-close friend. Or maybe, it is a part of the gift exchange game your group of friends holds every Christmas. A coffee mug is just what you need here.
Like I mentioned before, everyone must own at least one coffee mug. They can use it either at home or in the workplace. My bestie even has two separate mugs for tea and coffee. They would never find it a redundancy. I got a while mug with just a simple quote, "You are very special" for a co-worker and guess what. She has become so emotionally attached to it.
4. It is easy to pick up a/much favorite coffee mug(s).
There will be a time when you have to prepare gifts in bulk. This is a real challenge here. You expect your gifts to be exceptional while you do not want to give the same thing to everyone. How can coffee mugs be of any difference here?
Mugs with dissimilar embellishments are not the same. They are unique in their ways. Different mugs convey different messages for different people. You can easily pick as many as you want from thousands of designed mugs at the mug shop or online shop.
5. A coffee mug is cheap
A gift, in general, represents your genuine devotion to the person you give it to. Therefore, its price, no matter high or low, is not a measure for your affection. A hundred or even thousand-dollar gift has the same spiritual value as the one sold at a couple of bucks, as long as you give it with your heart.
Anyway, I list this reason down in this article because it is, without a doubt, cheap. The price of a coffee mug is not only reasonable for kids but adults as well. I know we all have thousands of stuff to take care of. If there is a gift, cheap – there I repeat it, while it can make the receiver unforgettable, how can you say no!
In conclusion
If you ask me which gift is the best for your loved one, I will cast my vote for a coffee mug. Coffee mugs are an amazing gift because they come with various designs. They can be customized, and are relatively affordable.
Other than that, a coffee mug can have much more spiritual meanings than you can ever imagine. Choosing a coffee mug as a present will never be outdated. Hopefully, you will add this little coffee mug to your list of a must-give-out gift from now on.